Aerospace Engineering Services
Hawk specializes in Aerospace, Mechanical and Thermal Systems Engineering.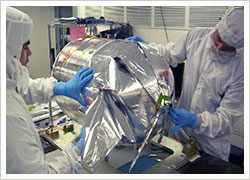 HISS provides subject matter experts and conducts research in the functional disciplines associated with spacecraft development and space-based missions (scientific and national security). HISS supports a number of contracts with NASA Wallops Island Flight Facility (WFF), NASA Goddard Space Flight Center (GSFC), NOAA, NASA Langley Research Center (LaRC), and the Secretary of Defense.
We provide mechanical, electrical, thermal and systems engineering support for a variety of programs including:
Aerospace Engineering
Cosmic-Ray Energetics and Mass (CREAM) Instrument
Max Launch Abort System (MLAS)
Autonomous Flight Safety System (AFSS)
Global Precipitation Program (GPM)
P3 Aircraft
Lunar Reconnaissance Orbiter & Hubble Repair Mission
Tracking and Data Relay Satellite (TDRSS)
Multi Mission Spacecraft (MMS)
National Polar-orbiting Operational Environmental Satellite System (NPOESS)
Climate Absolute Radiance and Refractivity Observatory (CLARREO) Mission
Mechanical Technician Support
Mechanical Fabrication, Assembly and Testing.
Heat and Plume Shield Manufacturing Design, Fabrication and Assembly.